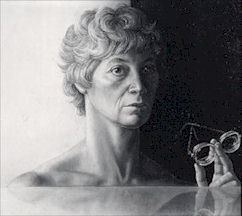 Brigid Marlin
Brigid Marlin was born in Washington, D.C., studied at the National College of Art, Dublin, the Centre d'Art Sacre, and the Atelier André L'Hote, Paris, the Beaux-arts, Montreal, and the Arts Students League of New York.
Later she went to Vienna to learn the 'Mische' technique, a process of painting which was a carefully guarded secret of the Flemish and Italian Renaissance painters, and revived after painstaking research by Ernst Fuchs. Returning to England, she founded the "Inscape" group of painters to continue the exploration and research into techniques of painting; and later the world between painters, sculptors, print-makers and jewellers. She teaches painting at West Herts. College and in London.
In 1982 she was resident artist at the Dorland Mountain Colony and in 1985 she was resident artist and painting teacher at the Carl Rogers Center for the Study of the Person, at the University of California.
Prizes — The 'Visions of the Future' Science-Fiction painting competition, 1st prize
— International Art Appreciation Award 1984, U.S.A., 1st prize

— International Painting Competition, Dublin 1988, 1st prize

— Upper Street Gallery Sculpture Competition, special prize
In 1985 she illustrated Mary O'Hara's book, "Celebration of Love". In 1989 she wrote a book "From East to West" which was published by Collins Fount. In 1990 she was commissioned to paint a headmaster of Cheam School, Berks. Her work is in the National Portrait Gallery, London, and museums and collections all over the world, including, as well as those already mentioned in the catalogue;
Lady Arran, J.G. Ballard, Mr. and Mrs. Lowell Blankfort, Mr. and Mrs. Joseph Haber, Mr and Mrs. David Tansey, California. Mary Craig, Noreen Corrigan, Art Consuftant, Montreai. Jim and Catriona Erler, Washington D.C., Kalid Hammadi, Kuwait, Takashi Higuchi, Tokyo, Mr. and Mrs. Huey Johnson, Environmental Resources U.S.A., Mr. and Mrs. Saul Katz, Boston, Richard and Maura McDonnell, Ireland, General Montfort, Spain, Ex-President Nixon, Mary O'Hara,
Admiral Paulsen, U.S. Navy, Hawaii, Virginia Rogers, Chicago.
Group and one-man shows include:
1964 Moles worth Gallery, Dublin

1966 Gallery No. 10, London

1967 Festival Hall, London

1968 Galerie Fuchs-Fischof, Vienna

1969 Galerie 2 + 3, Paris

1970 Woburn Abbey, Bedford

1970 Torrance Gallery, Edinburgh

1971 London Hilton Art Gallery

1972 Gallerie für Zeitgenoissische Kunst, Hamburg
1972, 1974 Drian Galleries, London
1973 Fanfare for Europe Exhibition, Woburn Abbey, Bedford

1973 Van der Straeten Galleries, New York

1973 Den Art Studios, Ottawa
1973 Upper Street Gallery, London

1975 Galerie Gustav, Malmo, Sweden

1975 Castle Wartholz, Austria

1976 Rye Art Gallery, Easton Rooms, Rye, Sussex

1976 Den Art Studios, Ottawa

1976 Abbot Hall Art Gallery, Kendal, Cumbria

1976 Upper Street Gallery, London

1976 Belle Mead, New Jersey, U.S.A.

1977 Hudson Guild Gallery, New York

1977 Jubilee Festival for Mind and Body, Olympia, London

1977 Royal Exchange, London

1978 Eindhoven, Holland

1979 Bonfoey Gallery, Cleveland, Ohio, USA

1979 Woburn Abbey, Bedford, England

1980 The Arts Club, Piccadilly, London

1981 Covent Garden, London

1981 Doorway Gallery, Rancho Sante Fe, California

1982 Central Gallery, Ginza, Tokyo

1982 La Jolla, California

1983 Arts Centre, Hong Kong

1983 Den-Art Gallery, Ottawa, Canada

1984 Tarot Exhibition, 5 Dials Gallery, Covent Garden

1985 Galeria Nuovo Spazio 2, Venice, Italy

1985 The Europa Gallery, Hampstead

1988 and 1987 The Alpine Gallery, London

1988 Renata Galleries, Chicago

1988 Clementi House Gallery, Kensington, London

1990 The Glebe Gallery, Ottawa, Canada

1990 The Alpine Gallery, London

Brigid Marlin is the founder of the Society for the Art of Imagination http://innervision.tripod.com. The society holds an annual exhibition at the Mall Galleries, London. The exhibition is open to all artists working in the realms of the fantasic, surreal and visionary. For more details and application forms write to:

The Society for the Art of Imagination,
P0 Box 240, Berkhamsted, Herts HP4 IHE,
UNITED KINGDOM.
E-mail: BrigMarlin@aol.com